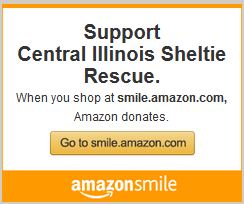 Pricing

Puppies up to 1 year old........ minimum donation $375
Adults 1-9.......... minimum donation $325
Senior Adults 10+.......... minimum donation $200
Senior to Senior* ......................Free

*Senior to Senior Program: If you are a Senior on a limited budget, we will gladly place a Senior or other program candidate dog with you as a permenant foster dog. No up front cost to you. You house, love and spoil the dog, for the rest of its life, and we pay all the extraordinary Vet bills.
Available in Central Illinois Only, and you must use one of our preferred Vets for any care we provide. You provide the dogs food, monthly Flea and Heartworm maintenance meds, and anything under $100. We provide all else.

All our dogs leave with the following done:

Spay or neuter (even on puppies)
One year rabies shot
DH2PP (Distemper/Parvo combo shot)
Bordetella Shot (Kennel Cough)
Heartworm Test (and treatment if positive)
Heartworm Prevention
Flea prevention treatment
Wormed
Groomed
Dental cleaning
Treatment of any medical issue
Blood workup
Microchip and registration form (there is an $11 additional charge to register your new dog)
A complete record with medical history record comes with each dog.

Rescue is about giving a dog a chance who otherwise would not get one. If saving a Sheltie is what you have in mind……..Click here to fill out our Online Application
So
.
..... you want to adopt a rescue Sheltie.
Thank you!!

CISR looks for adopters who truly want to save a homeless dog. If you want to help a dog who has not had the greatest start in life... then please continue.

If you are simply looking for an inexpensive Sheltie, this is not the right avenue for you.

Please read through this whole page. It should answer any questions you may have about adopting from us..

As you work through the adoption process, please understand that our primary concern is the happiness and welfare of THE DOG.


Our basic rules on adoption.......
You must have a verifiable history of excellent vet care for prior pets.

You must have a physical, permenantly installed, secure fence enclosing your back door and yard....
(ie: A fenced yard)

You must be over the age of 25.

We place our Shelties within or very close to Illinois. We seldom will place a dog out of state unless you are a former adopter in good standing, and have moved out of the area.

We generally will not place a Sheltie in a home with children under age 10. (it seldom works)

The dog must be a good match for you, your age, your lifestyle, your home. The odds must be good that you will outlive the dog. We do not want our dogs homeless again.

You must be willing to train and work with any new dog. Perfect dogs are created, not born that way.

If your current pets are not spayed or neutered, and kept up to date on all health care, including dental cleanings for your current Sheltie, you will not be considered for adoption.



NEXT
: Before you adopt a Sheltie, please make sure you know this breed. Shelties have many wonderful traits ....but they also have some not-so-wonderful traits.

Shelties can be very skittish and fearful. If a sheltie does not know you and trust you, they will not come to you. If fact, until they know and trust you they are a huge runaway risk. This is why we are so cautious where we place our shelties. If a Sheltie gets loose, they can be next to impossible to catch. Once they have started running, they quickly go into panic mode, and can stay on the run for months and even years. A Sheltie is NOT a dog that can ever be trusted off lead in an unfenced area. At the first strange loud noise, or other frightening experience, a Sheltie will run. If you are looking for a dog to be off lead as you work around the yard and garage... this is not the breed for you.

Most Shelties, once bonded with you, will be very clingy. They will follow you everywhere, and many give their owners a false sense of trust, and a belief that the Sheltie would never run off. Under perfect conditions this can be true. However as stated above, many things can spook at Sheltie, and they will simply bolt and run when you least expect it.
Shelties are barkers. They don't bark at everything.... but a sheltie will warn you if the UPS man arrives, or someone walks into your yard....or if something is 'not right'. If a barking dog will bother you, this may not be the right breed for you.

Shelties shed. This is a double coated, long haired breed. Their coat does need a fair amount of care. A good brushing at least once a week and a bath once a month will suffice.

Shelties can be very shy with strangers. A sheltie will be very affectionate and loving with its owners, but may be very shy with strangers. If you are looking for a dog that will run and greet everyone who comes to visit you..... this may not be the breed for you. Often, a sheltie will hide when a stranger comes over. Please consider this if you plan on hiring strangers to care for your sheltie while you are gone.

Most Shelties are NOT good with toddlers and small children. We suggest you wait until your child is at least 9 or 10 years old.. Most Shelties are somewhat sound and movement sensitive..... so unless your child is unusually calm and quiet, we discourage it. I know that "Lassie" was great with Timmy...... but Collies are NOT the same as Shelties. They are a totally different breed, TRUST US.

Shelties are a herding dog. They herd small children, squirrels, bunnies ....etc. Unfortunately, some Shelties also enjoy herding cars! This is why a fenced yard is so important for the dogs safety.
What age Sheltie would be best for my situation?


Please consider this.... Many people buy a puppy........and then work and work and work to get that puppy to behave like a mature adult. Please consider the chewing, the potty accidents, the crying in the crate, the constant attention a puppy needs when making an adoption decision. If you want a dog to act like a mature adult, then don't adopt a puppy!

Work all day / Gone a lot ? A young dog or puppy will not do well in this environment, however a mature/senior dog will. Please consider the welfare of the dog, and adopt a mature or senior dog if you are gone all day. A senior dog will likely come already housetrained, and trustworthy alone in the house.

An average Sheltie will live 13-15 years......so what age dog is best for you?

Puppy through 1 yr. old.........Lots of chewing, not reliably housetrained, needs much attention and training, not good choice if you are gone all day.

1-3 Yr. old........ Still acts like a puppy, may or may not be housetrained, will still chew, needs lots of playtime to burn energy, will become bored easily if left alone too long…..will chew or dig from boredom. Good choice for someone who is home only part of the day.

3-5 Yr. Old.......Able to be trusted alone in the house for short periods, needs several hours of playtime daily, will become bored easily, will chew or dig from boredom.

5+ .... A perfect dog. Past the chewing stage, reliably housetrained, content to sleep while you are gone, will want to play for a few hours, but will be ready to sleep again when you do. Best choice if you are gone all day long.

Rescue dogs range in age from puppies to 13 yr. olds. Everyone seems to want the young dogs.....so please consider opening your heart to an older dog. They are so much harder to place, and most often are the best behaved. They need homes just as much, if not more, than the younger dogs.


Other Considerations


Appearances Please don't insist on a sheltie solely on it's looks. We place our dogs in homes based on their temperament and habits.

A Sheltie would be miserable as an "outdoor" dog, therefore we won't even consider it. A sheltie forced to live outside away from the family will bark excessively and become destructive. Not a good situation !! A Sheltie is a very loving and loyal dog, that needs attention and affection. A Sheltie will want to be with the family, wherever that may be. We will only consider those homes who want a Sheltie as an indoor family member. Further, IF in one of our follow up visits, we find one of our dogs is left outdoors unattended, we will reclaim the dog.

Our Shelties can come from a variety of situations..... We get dogs out of Shelters, owner turn-in's, dogs found running loose, dogs who are abandoned because of their owners death...etc..etc. Rather than leave these dogs to die in a shelter, we take them in and address their needs. We will treat any medical condition the dog has. Then we spay and/or neuter every dog (no exceptions), bring them current on all shots, and begin it on heartworm and flea protection. The dog is bathed, groomed, and put into a foster home for evaluation. Each dog stays in their foster home until the temperament is known and a good match can be made. We do not place aggressive dogs or known biters. But some rescue dogs may have some "issues" to work through. We always try to advise you of any known "issues" a dog has prior to you adopting it. Rescue dogs usually have plenty of love, affection and gratitude to give back. And you will have the satisfaction of knowing that you saved a dog

We do not have a shelter. Our whole organization is made up of volunteer foster homes. We have dogs in foster homes all over the state. So...it is not possible to go to a "shelter" to view all our dogs. We ask that you submit an application first, and once you are approved to adopt, we will suggest a few dogs that we feel would be a good match..... and then make arrangements for you to meet them.

We do not place dogs in homes that we do not believe will work out..... so please respect our advice.

If you are unsure as to whether you can commit to a dog for the rest of it's life, (regardless of whether you move, change jobs, or get divorced) then please rethink your decision to adopt a dog. Adoption is for the rest of the dogs life.


Here are some things we insist on if you do adopt a Sheltie from us:


The dog may never be allowed off a leash unless it is in a securely fenced yard. This breed spooks easily and will run off.

The dog must be kept on Heartworm and Flea Prevention medicine at least 9 months out of the year.

The dog must get regular dental cleanings from your Veterinarian.

The dog must be an indoor dog and treated as a member of the family.

The dog is never to be left outside when you are not home.

The dog must wear it's collar and ID tags at all times.

The dog may only be fed premium dog food…..No generic or bargain brand dog food. (We see the damage done by cheap food only too often)


The Process. Here is how things work..............


The first step to adoption is filling out a written application. Submitting your application online is the easiest and fastest way to get things started. Also....we do NOT consider applications in the order that we receive them. We look for the best fit for our dog!! Applications that are snail-mailed in to us must be scanned or typed in and that takes extra time. Please email your application to us. As you fill out the application, please be totally honest, as we match dogs based on what you tell us. If you have a specific pet-peeve or preference, please let us know. Placing the right dog in the right home is very important to us.

Once we review your application, and if we have a dog that is a good match.......we will begin calling references, and your Vet. You must have a history of providing excellent health care for your current or prior dogs.

Next; we will have someone from our group call you and set up a time to come to your home to meet you and your entire family. Since we work over the Internet we never know who we are dealing with, so please don't be offended that we need to make sure we are sending one of our dogs to a good home. We put so much time, work and our hearts into these dogs, we are very picky where they go!! When we come to your home, we are not looking at your housekeeping or your financial status. We simply need to know that you are who you say you are, and that you have the means, the knowledge, and the room to safely care for one of our dogs. Our representative will also be happy to answer any dog care related questions you may have. Our representative may or may not have the dog you want with them It depends on where the dog is and where you are, and what is feasible. But more often that not, the volunteer will NOT have the dog you want with them. .

Once you are approved, you will receive an approval letter. This letter will also have further instructions in it.

Next, we will set up a time for you to come here and begin meeting dogs. Our dogs are in foster homes in Central Illinois. This could mean Bloomington, Springfield, Champaign, Peoria or a nearby area. We will make every effort to make meeting the dog as convenient as we can, but you will need to come here......we do not deliver dogs. When you come to meet the dog(s)........you will be able to adopt the dog (ie: take it home with you) that day if we both (you and us) agree that this is the right dog for you.

During the adoption process, we will sit down with you and go over the dogs medical history, behavior history and entire file on the dog. We will explain all the files and what you need to do. You will be given copies of all the dogs records. We will go over in detail how to care for your dog as well as answer any questions that you have. You will also register your new dogs microchip online, during the adoption. You will need a credit card or debit card to do this, using our secure Microchip Register Web Portal. You will also be asked to sign an adoption contract (viewable online also), and last....you will be asked to make a donation to CISR for the stated amount (below). All of our dogs leave here with a new leash and collar. You must bring a tag for your new dog with you. Tag must have your contact info on it.

Please allow at 30-45 minutes for the adoption process, once you have picked out your dog.
© Central Illinois Sheltie Rescue All Rights Reserved